Archive for July, 2008
Dear Son,
We visited the Motor Show on Thursday 24th July at Excel in Docklands. I managed to get free weekday tickets via on offers web site.
The first thing we did was waste 30 minutes because I didn't plan the route properly. We took the DLR to Popular because I thought we could get to Customs House from there. If you look at the DLR's maps you would think there was a direct route. But you would be wrong.
We returned to Stratford and took the Jubilee Line to Canning Town and from there got the DLR to Customs House. It only took a few minutes to get there and a few more minutes to get inside.
When you get excited you forget to use the toilet until it is too late and have an accident. So as soon as we got in we used the toilet and bought some water. Then it was into the show its self and I was a little disappointed as all there seemed to be were little booths. You had your photo taken there with a scantly clad woman while sat on a motor bike.
Then we walked through a small doorway and into an enormous hanger like area filled with cars and lights. You made a bee line for a convertible and we spent ten minutes sitting in it, me in the passenger seat and you pretending to drive. We moved on to the Landrover stand where you 'drove' a new SWB Defender and then a LWB version. We moved to the Ford stand and then outside to the "Cars" exhibition where we spent a good 45 minutes with Lightening McQueen, Mater, Sally and Mac.
We then ate before going back to see the Cars stand for another 30 minutes. The day was a scorcher and we headed back inside to see the other half of the exhibition.
We spent the next couple of hours climbing in and out of various cars and 4×4's. You were being very flirty with ladies staffing the show and I started telling more and more ridiculous lies about my car purchasing intentions when approached by sales people.
We tried to blag our way into the Lotus area but with no luck. At that point tiredness set in and it was time for home.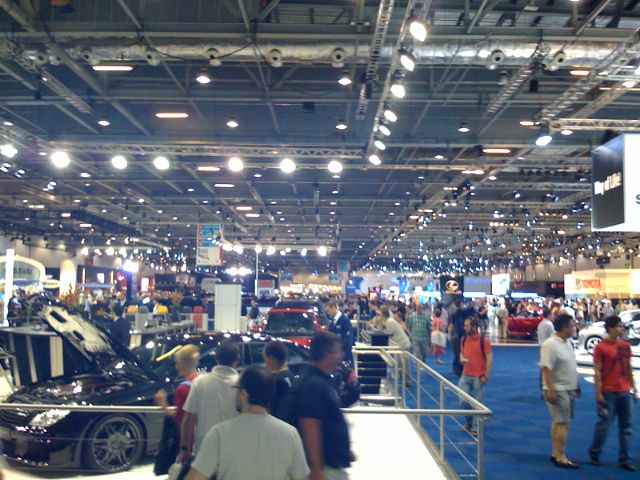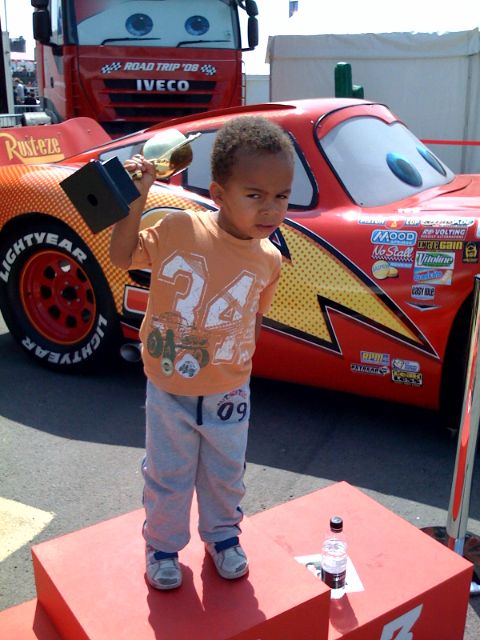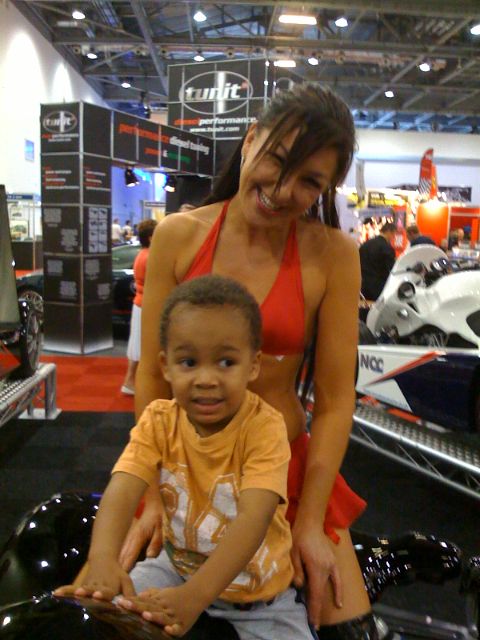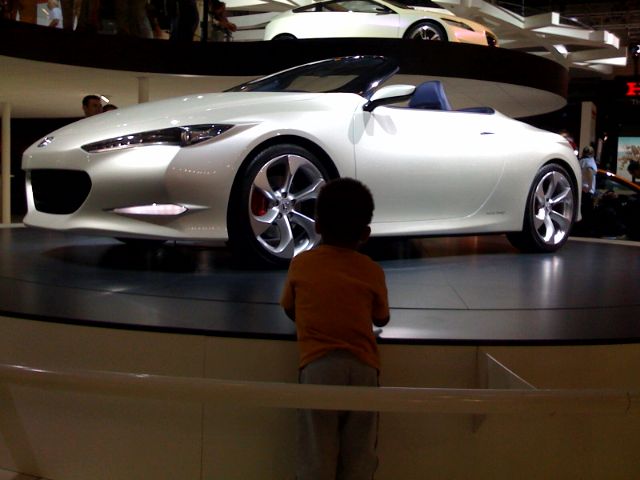 Dear son,
There was a bit of excitement today when I went for my lunch. Across the road from the greasy spoon was a pack of press photographers waiting for Naomi Campbell. She was rumoured to be doing her community service near to the assembled 'gentlemen of the press'.
The Steatham Clothes Horse was arrested on a flight when her bags went missing. When the captain came out and explained that her bags were missing and she would have to leave the flight she got upset. She ordered said captain to go looking for it and when he refused, called him a racist. If I were the captain I would have sued for defamation.
I received a CD today by an artist called Willis. When your mother was pregnant with you she became addicted to Big Brother. Luckily this time she has chosen CSI (original version) and NCIS to religiously watch. She flirted with 'House' and 'Numbers' but they never became part of the routine.
While watching CSI a version of Cameo's 'Word Up' was played. A very minimalist version using acoustic instruments and a fantastic vocal. I did a quick search and found the name of the artist and then found the song on iTunes.
A quick Amazon search and I found the one and only Willis album which I ordered and it arrived today.
And what a fantastic listen it was, so good that I listened to it twice without skipping a track. It's not everyday that I buy an album from an artist on the strength of a song that isn't even on the album. But it is a good investment and I'm looking forward to listening to it with your mother.
Thursday is our visit to the Motor Show in Docklands. I managed to get free tickets and I know how much you like looking at cars. I can't wait!
Dear Son,
at heart I am a geek, always have been and hopefully I always will be so I have some things geek to report.
First of all at work we got new computers running Microsoft's Vista operating system. The new OS is terrible. Every time you attempt to run an application the screen dims and a pop-up box asks you if you want to run the program you just clicked on. You can't do anything with the computer until you either click "Yes I want to run the program" or "No I don't want to run the program I just clicked on". Because Windows is so insecure it could be that a worm/trojan/virus has taken over your computer and is running programs and the system has no way of knowing if the program was run from a mouse click or by the afore mentioned worm/trojan/virus. So it tries to make the system secure by constantly asking if you just clicked on anything but this does not add security because eventually you just click "Okay" or "Yes" without reading the box. Pure and utter dog pooh.
Microsoft have tried to secure Vista by switching off everything useful. This is a good idea in theory but if the system were really secure it would still be secure when the deactivated services are switched on. And it isn't. I tried to look at some files on another computer and was told that I couldn't and that would need to enable something. I wasn't told how or where I could enable network browsing so I had to do a Google search to find out.
When I double clicked on a file to read it the operating system told me it didn't know which application to open the file with and asked me to click a button to see a list of applications. When I clicked on the button I didn't get a list of applications but I got list of folders with the system expecting ME to find the application.
I have loads of example to share but it would just get even more boring than it is now. I have been spoilt by the elegance and simplicity of my OS X on my various Apple computers. A little but more expensive but worth every penny as I spend my time doing things and not fighting the operating system at every turn.
I'm not sure if I'm getting an iPhone on Friday. I have ordered one but the order is still showing "Processing". 02 only have a handful of phones so I'm not sure if I will get one or not. I hope I do as I have a long train journey on Saturday to Newcastle. It should only take three hours but due to engineering works it will take nearer 5. I am going to pick up Grandma Audrey's car from Uncle Phil. He doesn't need it any more now he is going to Dubai to work so I'm going to see him before he goes and then drive the car back to London. I was thinking of taking you with me but 5 hours traveling up – some of that on a replacement bus – and then 4 to 5 hours in a car on the way back is not really a fun day out. Also we can't stop on the way back every time you think you might need the toilet.
Hopefully we can go and see Uncle Phil in Dubai in the near future.