Archive for the 'Culture' Category
Dear Boys,
Many years ago when I was a boy there were three ways to listen to music: on the radio, playing records, playing a cassette. Uncle Phil and I both had a record player each by the time I was 9 or 10. Uncle Phil got Grandpa John's old record player and I got given one by a person at church. The first record I ever bought was Funky Town by Lips Inc and I paid the princely sum of 99 pence for a piece of 7 inch vinyl. In today's money (2013) that would be £3.60. I only got 50p a week pocket money in those days so I could only buy a single every two weeks if I didn't spend more than a penny on sweets or crisps. The record players that we had would allow you to stack the records up and when one finished another would drop down and then play. As children we found this cutting edge technology to be amazing although it was a good 20 years old even then.
I was able to maximise my music purchasing power in two ways. The first was to buy second hand records at church and school fairs. Old records and singles could be bought for as little as a penny although what was on offer was what other people didn't want i.e. rubbish mainly. The other way to get quality stuff was to wait until the record fell out of the charts and pick it up for 49p. This happened to some songs quicker than others but because almost everywhere sold records: WH Smiths, Boots, Woolworths – at least one of them would have over ordered and want to clear the stock.
Except at church and school fairs, albums were out of my price range and to be honest not really my thing. As I kid I just wanted the songs they played on the radio not the more self indulgent album tracks. Compilation albums did exist – the top songs of the last few months – but they weren't by the original artists but done by supposed sound-a-likes although they sounded like they had be recorded in one day and in a single take. The albums were called Top Of The Pops and had the same name as the main music program on BBC1 at the time although the two were not related – although for a few yeas I believed they were. These albums would usually have a scantily clad woman on the front and I remember nearly buying one in a supermarket called Hillards.
Then in either 1981 or 82 things changed and a company brought put an album with all the original popular songs of the day out and with album one you got album two free. No more naff sound-a-likes that didn't sound anything like the original. Then in 1983 came Now That's What I Call Music and the series went on to dominate the market, killing off Top Of The Pops.
So many things from that era no longer exist: Hillards, Woolworths, major shops selling music and the easy availability of vinyl. Music is downloaded now for the same price as a single back in 1980 – 99p. Although downloading is not the same as buying for many reasons. Only being given a stingy amount of pocket money meant my music purchases had to be something that I liked, something that I knew. The only time I could take a risk on something that I might not like was at church and school fairs where I could pay a few pence and if I didn't like it, simply donate it to the next one. With digital music it is easy to find new artists and songs if you can be bothered to search YouTube or if you have a friend to tip you off. But what is missing is the physical product. I remember when I decided that I was going to buy my first single. I turned on my little radio, tuned to Radio 1, and decided to buy the first record that was playing. I thought about what I would do if I didn't like the song – let's hear the song first and then decide what to do. And it was Funky Town. I like the song so I walked in to town, on my own, and visited the different record shops to see which sleeve the vinyl came in. In one shop the single may be in a plain sleeve while in another it would have a full colour sleeve – I learnt that from a lad at school the week before when he was out shopping for singles. The BBC were embroiled in strikes at the time and the TV program Top Of The Pops wasn't being broadcast so it wasn't until the advent of YouTube that I got to see the video for the song.
The thrill of owning a physical music product is something that you will miss out on. I spent my Xmas money in 1985 on the album "Fugazi" by Marillion. I spent the 45 minute ride back from Newcastle studying the gatefold sleeve: reading the lyrics and admiring Mark Wilkinson's artwork and seeing how the two matched. You don't get that with downloads – everything is instant. No journey to the record shop, no journey back, no sleeve notes or album art to appreciate while listening to the music. And I think you'll be worse off for it.
Dear Boys,
When I was about 5 or 6 years old there was an advert on the telly for a brand of bubble bath called Matey. We didn't have bubble bath in our house, it was seen as an expensive extravagance but this didn't stop me and Uncle Phil pestering Grandma Audrey in an attempt to get her to buy some. We didn't try it on with Grandpa John as we knew we could never convince him.
The advert promised that Matey would not only clean the children in the bath but the bath itself, which I thought was the angle I could use to sell the product to my mother. Surely never having to washout out the bath after Uncle Phil and I had been in it would be enough to secure a purchase? No. My mother didn't believe adverts, pure and simple. In her life time cancer causing cigarettes had been advertised on the TV, even claiming that they were good for you!
Our pestering must have had some effect because eventually we did get some bubble bath but I'm sure it wasn't Matey. I do remember using the shower attachment to swill away the remnants of bubbles.
So fast forward about 35 years and I was out shopping and I needed to get bubble bath. And then I saw a bottle of Matey next to Sainsburys own and started to hum the tune from the advert. When I saw that it was on offer at half price and cost less than the usual type I had no excuse not to buy a bottle. So I bought some. It may have taken about 35 years but the advert never left me. I remembered the tune and one of the three selling points.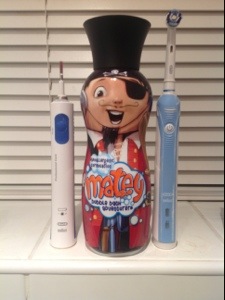 Dear Boys,
I decided to wait some months until this story moved away from the public eye to write about the death of Gary Speed.
I was looking at the BBC News web site on a Sunday morning when I saw the headline flash up "Gary Speed confirmed dead".  I was shocked because only the day before we had watched him on Football Focus. No other details of his death were given.
I told your mother that Gary was dead and she too felt the same feeling of shock. She asked how he died and I said I didn't know but I thought it must be a car crash as I thought that he must spend a lot of time driving around to see various Welsh players plying their trade. My thought was that he must have been driving home late and crashed.
This though was not my first thought. My first thought was that he must have had a heart attack or some undiagnosed heart problem that reared its ugly head and killed him. I suppressed this thought because the man was extremely fit – he had trained regularly for most of his life while I have spent most of my life sitting behind a computer tapping away on a keyboard. If anyone should have a bad heart then it should be me. If someone supremely fit could unexpectedly die with a heart problem – what chance do I have?
I switched over to the BBC's 24 Hour new channel and they were carrying the story but no mention of the cause of death was made, only that police had confirmed Gary's death.
A quick Twitter search and information that Gary had taken his own life started to emerge. I have seen information that is quite clearly fake spread through email, FaceBook and Twitter before so my first thought was "this is rubbish, why are so many idiots regurgitating it".
As I said earlier Gary Speed had been on Football Focus the day before, smiling and happy and joking with his old team mate Gary McAlister.
Then the newsreader confirmed that Speed had been found hung at his home and that it was suicide. I felt stunned, a knot developed in my stomach.  This could not be true. Why would he do such a thing? Had he been set up by the Sunday tabloid press? There were not mentions of him in that mornings press – so why?
The inquest into his death hasn't started so maybe that will shed some light onto his real state of mind as opposed to the public image. I will always remember Speed for being a Newcastle United player.  For our first date I took your mother to a Newcastle game away at West Ham.  It was raining very hard that night and we got very wet. At half time we waited under the stand in the dry before making our way to our seats and missed Speed's goal for Newcastle.
Even after the best part of two months I am still stunned and confused by his death.
Dear Sons,
I have spent most of the day thinking about the meaning of my dream from two days ago. Like I said yesterday I don't believe in messages from beyond the grave but what if?
It is impossible to prove a negative but I'm going to have a go. In my dream my mother specifically mentioned Lewis and asked me if Lewis was with me. But what could that mean? Well taking on the role of a Spiritualist I have decided to interpret this dream. Unlike a spiritualist I can't ask leading and vague questions to a large audience until I can home in on someone – I can only ask myself questions and that wouldn't achieve much as I already know the answers. Read the rest of this entry »
Dear Son,
I was listening to my iPod on the way home from work and getting a little frustrated at the sound quality. I'm not sure if the problem is the iPod its self or the headphones or a combination of the two but I don't get any bass response at all.
The three types of music that I listen to require bass:
Soca
Dub
Trance
The other stuff I listen too doesn't have the bass emphasis. The classical music I listen too sounds fantastic but with the Soca I can't get that Tragrette Road experience. Having said that to get that experience I would need a sound system on a lorry. The last time I spent too long next to a sound truck – on the Pure Lime sound lorry – I was deaf for a good few days. I don't suppose it would be practical to have a sound truck following me around on the off chance that I wanted to listen to Jumbie by Scrunter but listening to it on my iPod is frustrating. The bass comes in but I can't hear it and the feeling that I got at 4am covered in mud, grease and paint playing J'Ouvert with Mudders International in Port of Spain is missing.
I've just done a little experiment and it's the iPod Nano that fails to cut the mustard. I'll have to wait to see what the new iPhone can do. Steve Job's didn't mention the bass response in terms of my musical likes when he made his keynote speech on Monday – he talked about 3G and GPS and how easy it is to write apps for the iPhone but no mention of Machel.
Wining up in ah band
Jammin on ah woman
shakin down in de stand

Ah musical jumbie is roaming through de land
It have me uneasy, ah just cyah understand
Any whey ah go it like meh shadow
Make me lose control when it touch meh soul
Meh body shakin, ah doh want to stop
Cause if ah do dat, it go lick me up
It have meh…
White man cyah wine? For this one it depends on how much rum has been drunk, the more I drink the less pain I have in my knees.
Dear Son,
Sunday 9th MArch 2007. 16:13 GMT
We are just under 5 hours into out 12 hour flight into Tobago. We are 2 hours 2 minutes from Antigua doing over 1000km/h. You are watching the film Cars on my PSP after having had an hours sleep – I slept for most of that time as well. The woman in front of me insists on having her sate reclined so I have very little room to move and your mother is playing Patience. After Antigua we have a short hop to Tobago. We have one night there before a really shot hop over to Trinidad on Monday lunch time although with the 4 hour time difference it will feel more like the late afternoon for us. I'm sure you'll be up at 6am GMT, 2am local time but I am hopeful that you will sleep on until around 4am local time. If you do we might walk down to Crown Point to have breakfast there when it opens at 7am. We have food to eat this time, unlike last time when we had wait 4 hours for breakfast.
Mummy is now taking you for a walk around the plane.
Last night we stayed with Alison and your God Father Lawson, who live 5 minutes from Gatwick. So instead of an early morning drive from Stratford we had a lie in, Alison made us all a loverly breakfast and then she dropped us off at the airport. So far so stress free – the problem with flights like this is the boredom factor. I have already written my thoughts on KK going back to SJP and I'm sure over the next week I'll change it by adding some details.
You great Grandma's funeral is on Tuesday at 10am, we don't know where and we don't know the format. But we do have our funeral clothes clean and ready to wear.
When we go the news in the early hours of Friday morning I knew that your Great-Grand Mother had died. Your mother had told me she was in hospital and not very well and the only time the phone goes during the night is when someone dies.
Again I am reminded of my mortality. I somehow thought, like the protagonist in the Green Mile, that would continue to be the same age and people around me would grow old and die while I reach a certain age and stop getting older.
Time to read you a story if Mummy remembered to pack it. She has.
18:32 GMT
We have just landed at Antigua – you are looking out of the window. The last couple of hours passed with no drama except that you pressed the emergency call button in the toilet so we had a knock on the door from a flight attendant. Also the landing was a bit hard – we seemed to hit the ground quite hard leading to me exclaim quite loudly "JESUS CHRIST!!".
We arrived 55 minutes early so we may be here for a while. Unless all the people going to Trinidad have arrived early and can be bundled on board in double quick time. We already have our customs forms filled in and because you and mummy have Trinidad passports we can get in the much shorter residents queue. We need to go to a cash point when we land and make sure we put our departure tax (100 TT$ the last time we were here) to one side so we can get back out when we leave.
I can see from inside the air-conditioned airplane how hot it is outside. I know how hot it is going to be in my mind but my body is not prepared. The second time I came to Trinidad this did my head in and I sat in our hire car with the engine running and the AC on full until I was back down to a proper temperature. Now I can acclimatise in less than a day but I still know the shock of the heat is coming – some of this is due to jet lag. My body is telling me it is 11pm and it shouldn't be this hot. The rest is due to the heat its self – it shouldn't be this hot. The problem really manifests its self at night. In the UK on a very hot day it will cool down quite a bit once the sun goes down. But out here the sun goes down around 6pm but the heat doesn't really drop that much – or not as much as it would in the UK and that, for me, is normal. Having talked to first generation Trinidad immigrants I know that it is not just me. Despite these people spending up to the first 25 years of their lives in the heat they still find it too hot when they visit their land of birth.
18:45 GMT
You have just met the pilot who's middle name is also William and his first initial is also P.
You are now busy running around the plane with mummy following you. Although you are stopping to chat to people on the way around. I wonder when it is in life that we stop being social animals and coocoon our sleves.
22:15 GMT 16:15 Local TIme
We are now at the hotel (The Hummingbird) and already had a quick dip in the pool. All the rooms open onto the pool. While we were all naked when getting changed for the pool you pulled the curtain back so anyone passing could see in. Luckily no one was passing.
We have set the AC to 23 degrees C. I think I will shave tomorrow before we leave because my face is feeling really hot. I also need to get some sandals as my trainers are far too hot. I have scanned for open wireless networks and not found any broadcasting an SSID. I'll load my copy of KisMac and see if there are any hidden networks. Naughty naughty.
23:45 GMT 19:45 Local Time
You are fast asleep and in a bed for the very first time on your own. We have pushed the double bed up against your single bed so that you can't roll out and onto the floor. It will be interesting to see how you seep in a bed.
we have been stuffing socks into our shoes to stop any creatures crawling in – this is the same hotel were we had a scorpion in the room. A scorpion that could shrink it's self to make it look like a bit of old string.
We have turned the AC to 27 degrees and put it on fan mode so that it doesn't spew the cold air in one direction only. I cuddled up to you on the bed until you fell asleep and it wasn't too cold for you.
I need to bring you trainers in from out side and then I am off to sleep as well. A late night fir GMT but an early night for local time.
03:30 Local Time Monday
You are asleep, curled up with mummy but I am wide awake as it is 7.30 GMT and I am wide awake. I'm going to lie in the bed and see if I can drift off – even it is for a few minutes.
07:26 A few minutes after the post above you were awake and you started singing "The farmer wants a white, the farmer wants a white …" over and over again. Mummy said to you: "The farmer wants a wife." You started singing "The farmer wants a white, the farmer wants a white …". "Okay," said mummy "the farmer wants a white. Now go to sleep." We have just finished watching Cars on my laptop and had a shower. Now it's time for breakfast, nearly 4 hours after we woke up.
08:42 Local Time
We have just had breakfast. Something I forgot about that happened at the airport. When we were waiting to clear customs a behind you sneezed you turned around, looked him right in the eyes and said "Bless you". He replied "Thank you." At which point you replied "You are more than welcome!".
We are now packing and going to the airport. We need to confirm our flights, top up the DigiCell phone and then fly off to Trinidad. Mummy is talking to the surveyors for a huge amount of money per minute.
13:25 At Aunty Helen's house.
No drama's getting to Aunty Helen's house. You slept on the short flight over from Tobago to Trinidad. Now we are unpacking and settling in, ready for the funeral tomorrow. I'm feeling tired and I could do with a sleep. Grandpa Ken has gone out for roti, I hope he remembers that I'm veggie or I'm off to Trin City Mall to get a Subway sandwich.
15:58
The Roti was real nice boy. Had a small glass of wine with Aunty Helen and mummy while you throw rocks at a tree in the garden. I took some photos of a fig tree and a leaf cutter ant carrying a bit of leaf. We are going to your Great Grandma's house tonight for a wake so I am having a little sleep before going.
22:32 Home from the wake. You were hard and fast asleep as you went to sleep at the same time I did. We dressed you and then went off to your Great Grandma's house were the wake was in full swing. At Tantie Winnies wake there was a sound system, loads of food and drink and and an upbeat atmosphere. Here the upbeat atmosphere was present but the free flowing alcohol was missing. Your great-grandma was a 7 Day Adventist. I'm not sure what they do or believe but it appears that they like to sing for there was a lot of singing going on. We stayed outside of the house and enjoyed the cool night air, watching the planes going into Piarco and the moon rising.
Mummy is trying to give you a shower at the moment but you are so tired all you want to do is fight.
We found out that the funeral is at 2pm tomorrow and in Arima. I'm not sure what happens after the funeral or who will be there but your mother met one of her uncles for the first time tonight. He has two daughters, one of which is studying in Cambridge so we might meet her quite soon.
Tuesday 11th March 2008 06:46
Found an answer phone message on my phone from Lewis who celebrated his 9th birthday yesterday. I went up to Hexham the day he was born ad took some photo's. I had them developed at a 1 hours place on the Monday and had them scanned and on the internet by the evening. These days we take photos on digital cameras and mobile phones and can upload the pictures straight from the device in the case of mobile phones. When you were born I had your photo's on the internet within two hours. I had been practising for ages to make sure I got everything right.
You slept okay, until 5.30am today. More later.
10:16
We have just been shopping with your Grand Da and cousin Daniel. You had a good old run around LB's supermarket in El Dorado. Managed to get some apple juice for you, some veggie burgers for me and some Evian for us all. The tap water here is very murky and highly chlorinated. While it might be impossible to taste the difference between tap water and bottled water in some parts of the world, in Trinidad that is not the case. You don't seem to mind it though and I brought Peppermint Tea bags so I don't taste the water either.
Our DigiCell SIM is not working and as I thought they have cut it off because the credit ran out months ago and the SIM hasn't been switched on for over a year. I reckon if I get in touch with the company directly they might switch it back on. The only thing to do is buy a new SIM each time we come but I'm sure we can keep it alive some how. If they do web top-ups then we can keep the SIM in the UK, switch it on from time to time and then top-up for a few TT$ at the same time. A hassle but less hassle than having to take one of Heather's family to a mobile phone shop every time we visit just so we can make cheap calls.
You have been playing with Daniel this morning but just returned from 24 with Mummy and she wants to talk to me. Sounds ominous.
12:19
Lunch is cooking but we have to be out by 1pm and I'm not getting dressed until I have eaten. I'm not getting food all down my suite – I usually get most of my food down my front when I eat. The chat your mother wanted was about the car seat. We are going to be cramming loads of people
Wednesday 12th March 2008 09:26
It is Lewis' birthday today, he is nine years old.
The funeral yesterday was quite a joyous affair as people gathered to celebrate the life of your great grandmother. It also had some funny, strange and inappropriate events.
The service was held in a funeral home in Arouca that is also a crematorium. Your great grandmother was laid in her coffin with the top half open. Before the service started the manager (I presume) of the funeral home made an announcement regarding a parked card. The man was dressed in very casual clothes and seemed rather annoyed at the whole funeral that was about to take place. He then disappeared.
The Pastor started the service by welcoming everyone and then we had a hymn. This was quite funny as the woman who was leading the singing couldn't sing herself. That didn't stop her bellowing in to the microphone and drowning out everyone else. She told us before each hymn that we would start on four and then counted us in "three, four" and off she went. She also kept shouting out the next line of each hymn before we got there and then joined in herself. A few times she didn't join back in with us and it was then that I could hear the rich voices behind me. The male bass end was perfect and the women seemed to have the mid and upper ranges covered perfectly with amazing harmonies. Then old-woman screech would join in and they would be lost to the sound of cat-murder being pumped out of the PA.
You fell asleep during the first hymn and I put you to rest on the floor near an AC unit so you didn't get too hot. I knew that I was putting you in the walk way leading to the toilet but I didn't expect a steady stream of people to be using it. Having said that it was mainly a little girl and an old man who seemed to be using it the most. Aunty Hazel did the eulogy and received some applause when she finished. The service proceeded and I noticed that the pastor was having problems with his English. Instead of saying "biblical" he kept saying "blib-bical" and this made me laugh a little, I also started having a laughing fit during one of the hymns when cat-murderer sounded like she had grown some more arms and was doing what she did best. I pretended that I was crying although your mother saw thorugh it and gave me a dirty stare that stopped me in my tracks.
When the service was nearly finished people where invited to pass by the coffin and say their final good-byes. Then the family was invited to do the same. I came over to where I had laid you because as you mother put it "grief stricken people don't always think" and we didn't want anyone standing on you.
At this point the manager came back in looking very unhappy and walked about showing no respect at all for the grieving people in the room. At the same time four men wearing gold chains, Timberland boots and t-shirts appeared and then walked though a set of doors – again showing no respect to anyone. One of them was on his mobile phone.
With everyone having paid their last respects the coffin was closed and the 4 men from earlier re-entered wearing white coats. The Pastor then said the final part of the service:
Earth to earth,
Ashes to Ashes
Dust to dust
In the sure and certain hope of the resurrection …
The last line got me and a few tears appeared. My own mother was sure and certain of the resurrection that the Pastor was talking about, unshakeable in her belief. This line also got me at the funeral of Arthur, our next door neighbour. When ever I hear those words I am transported back to Birtley Crematorium as the curtain closes and I see my mother (encased in a coffin) for the very last time.
The manager barked some orders and I'm back in the room. Again the manager was talking in a way that would be appropriate for a production line rather than a funeral – and the coffin was taken to some white doors. I could not see what was behind the doors from the place where I was standing but I could hear the sound of the furnace firing up. The relatives watched as the coffin was raised and then pushed forward – I'm assuming that they watched it as it went into the furnace and the furnace door was closed. The white doors where then closed and the service effectively came to end. Some people started to drift off but others remained some talking, some crying and others laughing. Instead of asking us politely to make our way out the manager had another coffin brought into the room and then got on the mic to tell us another service was about to start. The exodus was swift and total.
From there it was a short drive to back to your Great Grandmothers house and the food and drink started to flow. You had woken up by now and were happily running around with the other children and your cousins. The men disappeared in to the back garden to set up the "engine room" – a place to drink, play All Fours and be men.
I have the greatest respect for your Uncle Wendell and his All Fours prowess, but yesterday he was off the boil. We had 10 points and the other guys had 13, we needed 4 points to win, they needed just one. I knew that I needed to call out trumps but Wendell was having none of it and they hanged my jack. If I had been able to pass the Jack we would have won. The next time we played I took the lead and we won – the lesson here is that I sometimes need to assert myself.
By this time you were surviving on nervous energy and once in the car to go home you fell asleep and stayed that way until 5.30am. We nearly have you on Trinidad time.
We have both been bitten by mosquitoes. They have attacked my left arm and right thumb – Grand Father Ken reckons they don't get a lot of white blood so when they find some they go to town. Another theory I heard is that the mosquitoes can see white skin in night better than black skin. Personally I believe that the mozzies have a personal vendetta against me. I don't know what I have done and maybe I'll never find out but they are all hell bent on revenge.
Dear Son,
I saw something on the BBC web site yesterday that triggered enough memories to fill a whole book.
Way back in 1988 a singer called Fish split with the rest of a band named Marillion, a band I had followed for a few years before. I got into Marillion when my brother (your uncle Phil) was given a tape of "Misplaced Childhood" by a friend of his and it was played constantly. The album is still a fantastic listen, I'll be putting it on my iPod tonight so I can listen to it tomorrow.
The album that came after that was called "Clutching at Straws" and was about Fish's alcoholism. The songs are all about self pity and fitted in well with my raging 17 year old hormones. I bought the album the very day it came it out from HMV in Durham. A University and Polytechnic fair had been organised at a school hall in Durham and as Sixth formers we were all encouraged to go along and meet with people from different Universities and polytechnics. Most of us used it as an excuse to go to Durham for the day and hang out although I did pop into the fair and pick up a couple of Prospectuses.
That day in Durham was gloriously hot and fantastically rebellious – buying an album in the morning and then I ended up spending the afternoon in the cinema watching a film rated 18 called "Personal Services". The film was based on the life of Cynthia Paine who had run a brothel. The film would be thought of as quite tame these days but then it was close to the edge of scandal. I also took the decision that day to drop A Level maths as I was spending all my time working on it but not getting anywhere – the other subjects I was doing were suffering as a result, as I was way behind with the other reading and work I needed to do for my Computers and History A-levels.
We had a shared record player in the front room so when I got home I simply taped the album and then put it away so that it wouldn't get scratched and then played the tape until it wore out.
I had managed to amass the Marillion back catalouge by this point with the exception of one album. I used to buy my records for a stall on Chester-le-Street market. I forget the man's name who ran it but he some really good stories. He had gone to see Led Zeppelin at Newcastle City Hall but had only been able to get seats in the Choir stalls that was behind the stage – this was in the days when the band would turn-up on stage and play, without fancy lights and shows. He had to leave early to get the last bus back to Chester-le-Street and on his way out he got a little lost back stage and bumped into Jimmy Page who has just finished playing. He asked Jimmy, who still had his guitar around his neck, for his autograph. Jimmy patted his hands around his trousers, looked at the guy, shrugged and said: Sorry mate, I've got no pen.
The other story he told was when he met Jimmy Hendrix. He was going into a night club in Gateshead when someone on the way out bumped into him. The guy apologised for not looking – the guy in question being Jimmy Hendrix.
The one album I was missing was called Fugazi. The term comes from the Vietnam war and means a type of madness that would affect American soldiers. I'm not sure if the album was rare or not but the man on the market stall never had it, I suppose it was the album that nobody wanted to part with as most of his stock was second hand. Or perhaps it was the album that was hardly ever bought and then stolen – if his stock was in fact nicked goods. I was going to have pay full price for this one and I saved really hard. By Christmas 1997 I have enough money to finally go out and buy the album and I made a day of it.
The only place to buy albums was in Newcastle as Woolworths in Chester-le-Street didn't sell it. I would have a large choice of shops once I was in Toon and might even spoil myself with some cakes from Greggs.
My favourite record shop at the time was Virgin in Eldon Square. The place hadn't had a make over for years and was very dark and dingy but that just gave it an arty feeling. If you wanted bright and well lit you could always go to WH Smiths or even HMV on Northumberland Street. Seriously weird people lurked in the dark of Virgin and being a teenage Marillion fan made me seriously weird to my contemporaries. Although no where near as weird as the people who haunted the darkness of Virgin records – goths, punks and rockers.
Buying music in those days was very different from how it is now. Within a few years CD's has replaced vinyl and now downloads are replacing CD's. The thing about albums in general was that the packaging had to house a piece of vinyl that was 12 inches in diameter. This left loads of room for pictures and artwork and all the thank you's or equipment lists. Marillion albums were two twelve inch pieces of card with a fold in the middle and had fantastically detailed artwork on all four sides. In the inside would be the lyrics printed above more artwork. I don't remember which shop I bought Fugazi from but I do remember sitting on the bus back home and spending a good long while looking at each every detail and being enthralled by it all. You don't get the same enthrallment with CD artwork because it is so much smaller and all you get with an iTunes download is very small cover artwork that appears on the computer or iPod screen – you don't even get to hold the thing, turn it over in your hands, see it in different light at different angles. So much of the creative process of creating a package that envelopes the artistic process of making music has been lost with digital technology. And that is a shame.
Instant gratification is no gratification. The very fact that I saved for many months to buy the album and then had to wait for an hour to get home before I could play it, an hour studying every nuance of the cover art and lyrics to songs, only added to my enjoyment when I finally listened to it. Some of them I had heard before on Real to Reel, the live album, but most were new to me including the stunning eponymous song Fugazi.
I was lucky enough to see Marillion with Fish on their last tour together at Newcastle City Hall around Xmas 1997, nearly 20 years ago. I still have the t-shirt and program from that night. So when I read the BBC news story that Fish had been joined on stage by his old band mates I was excited and then saddened that I hadn't been there. In the story one woman says that grown men were crying and I understand why. My Marillion years are long behind me but I still long to be a Market Square Hero.
Dear Son,
when ever your mother and I play music in the house you like to get up and have a dance, you enjoy it even more when one of us joins in.
I was listening to some music this morning on my iPod on the way to work and got carried away with the track. I was listening to an old Euphoria album and was taken back in time to a warehouse rave. I was very close to throwing some shapes on the train (small fish, big fish, small box, big box). Luckily I got a grip before taking someone's eye out with a flailing hand.
This is not the first time that music has carried me away. The day before we were due to fly to Trinidad for carnival a few years ago I was getting my self in the mood with some sweet Soca on my iPod. Low Rise (by Traffik featuring Sean Caruth) came on and I put my arm out to slip it around the waist of the woman in front of me. In my own mind I was in Soca fete somewhere trying to "Teef a wine", in reality I was on Stratford station waiting for a train into Liverpool Street on a cold February morning.
Luckily reality returned before I was arrested. Or even worse, laughed at by the young woman for my robotic wine action. Despite your mother's best efforts my wine only really comes into its own when I am well and truly plastered and so is everyone else.
Unlike Denise Belfon.
"Why, Sir, you find no man, at all intellectual, who is willing to leave London. No, Sir, when a man is tired of London, he is tired of life; for there is in London all that life can afford." Samuel Johnson.
Dear Son,
I think that I have mentioned this before but it struck me again on the way to the airport last week – I love living in London. I have lived in many places over the years but London is the longest place I have lived any where and the house we live in now is the longest property I have ever lived in.
One of the things I like about London is the endless chatter regarding routes around town. To get to Heathrow I decided to go through the centre of town, the quickest way was down Carpenters Lane, through Hackney, down Essex Road, onto Upper Street and then left at Angel and keep following the road over the West Way until Northolt and then a left which brings you out on the M3 one junction before the Heathrow turn off. I spoke to my best man on the phone at Heathrow and we discussed the different routes and the problems each one has. Learning different routes though London and finding a short cut always gives me joy.
When we went to Trinidad for your Uncle Wendell's wedding we got stuck when the traffic lights on the West Way became out of sync. Luckily we were able to turn off just after Angel and head for the North Circular. The time before that we were caught on the slip road into Heathrow which was jammed because a car had broken down in the tunnel to terminal 3. So it was nice this time to make really good time to Heathrow without any dramas.
The beauty of London is that almost everything is here. If I want to eat at an Afghan restaurant then go onto a Yemeni music evening before a few swift drinks in a Turkish bar – I can do. The thing is, I never choose to do this. I suppose having the choice is nice to have, something that I couldn't do if we lived out in the sticks.
There is quite a lot of wild life in London if you know where to look – and you do! All the time you are telling me that you can see a bird, a doggie, a cat and sometimes even an elephant. You haven't quite got the gist of squirrels yet although they are moving into the street and you don't stay up late enough to see the urban foxes or hedgehogs that frequent our back garden.
In Trinidad we saw loads of animal that we don't see here. Bats, parrots, hummingbirds and a great big lizard in Grandpa Warners garden. We also saw a heron in one of the drainage ditches and heard the frogs and crickets that call out all night only for the dawn chorus to kick in with first light. I watched a video shot in Trinidad and the big thing I noticed was the sound of the birds singing – something you don't really hear in London.
I think I could live in Trinidad but I would miss the hustle and bustle of London, the finding of a cabbie route and the opportunity not to eat Mongolian curry. I am nor tired of life just yet.
Dear Son,
I'm not one to get excited about going out and partying. To be honest I would rather stay in and have an early night but I am getting excited about going to Trinidad for Carnival 2007. Your mothers half-cousin Nina has managed to get hold of two tickets for Breakfast Fete. The tickets are as rare as hen's teeth but she has connections.
You went to this party in the womb in 2005. I wasn't drinking because I had eaten something bad a couple of days before and I still hadn't got over it. Although your mother will say I drank too much at The Presidents Fete a couple of days before. I did drink a lot but I was ill when I turned up.
It is nice to go to a place where the President wears carnival costume and dances through the streets and organises a huge party – just a shame that he needs machine gunned tooled up security and charges £50 for his parties. An amount not easily affordable to the majority of the population.
I'm also looking forward to J'Ouvert and I found a picture of your Uncle Keith on the Mudders International Web site – he's on the right hand side at the top. Hopefully he'll be on the road this year as well as your other Uncles so we can a good lads blow out. I'm also hoping that your mother doesn't mind driving us in and back out of Port of Spain when we are covered in mud. I'm sure she won't mind too much although the car rental people might have different idea's.